Tough Day at the Office Against an Excellent Barnsley Outfit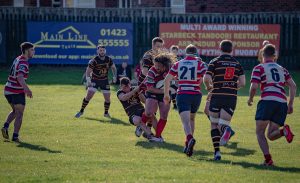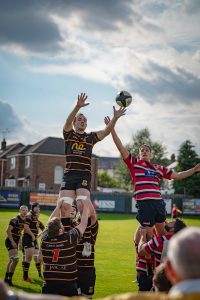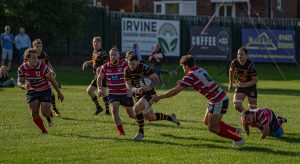 Harrogate Pythons welcomed newly relegated Barnsley to the sunny Jim Saynor Ground for this eagerly anticipated clash between two unbeaten sides. Barnsley kicked out on the full and following a solid opening scrum, Will Clough gained an attacking lineout with a clever kick. The Pythons went wide and kept possession following a good pickup from Ollie Wheatley but the move ended with a forward pass to Jed Wolfram went into touch. From a scrum Liam Kernoghan's clearance kick was collected on the charge and from the breakdown quick ball and an inside pass put their centre in under the posts for a converted try. 0-7 9 mins.
Hugh Tatlow made a clean break and linked well with Jordan Payne and despite several attacking phases the Pythons could not breach some determined Barnsley defence. Eventually the referee penalised the defence and Will Clough stepped up to open the Pythons account. 3-7 15 mins. Despite losing two scrums in a row against the head, Barnsley managed to keep the pressure on and following a break from their flanker their lock broke a tackle to add another converted try by the posts. 3-14 22mins. Clough restarted long and the Barnsley No8 charged out from his line but was met by Nino Cutino and Barnsley were penalised for holding on. Clough stepped up to reduce the deficit to 6-14. Again Tatlow made a clean break through the middle, well supported by Jon Pickard, the ball went wide but James Audsley-Beck was swallowed up by the cover defence. A long Kernoghan clearance was well returned by the Barnsley full back who sliced through the defence and won a penalty at the breakdown 6-17 32 mins. The Barnsley full back made another clean break but this time was stopped by a strong tackle from Audsley-Beck to leave the half time score Pythons 6 Barnsley 17.
Clough started the second period with a long restart but following a quickly taken tap penalty the Barnsley No8 again rampaged through a gap and a long pass wide put the winger over for a converted try. 6-24 42 mins. As the game settled down, Owen Carter made good ground with a run and kick, but another Pythons clearance kick straight to the Barnsley winger saw him round the cover defence and break free to add another converted try. 6-31 56 mins. A series of attacking scrums saw Sam Beagrie make a burst for the line and quick ball wide gave George Booth the opportunity to pick up and power over for the Pythons first try. 11-31 70 mins. From the restart the Pythons attempted to run out of defence and were turned over and a burst from their lock saw the No8 pick up and drive over for a converted try. 11-38 72 mins.
The Pythons responded after strong work from Ollie Myers was carried on by Andy MacKay who found Matt Leach to crash over. Try converted by Jed Wolfram. 18-38 76 mins. Barnsley however had the final word when their winger was tackled out wide and threw a speculative pass inside which was gathered by a rampaging forward to cross for the final converted try to make the final score Pythons 18 Barnsley 45.
This was a difficult game for the Pythons who will not face better opposition this season. Coach Dan Bird was pleased with the low penalty count and High intensity shown, but will not be pleased with the number of individual errors made. Next weekend the Pythons travel to Knottingley.
[Thanks to Andy Bennison and Simon Wormsley for their excellent photographs – More can be viewed on our 'Harrogate Pythons RUFC Social' Facebook Page].