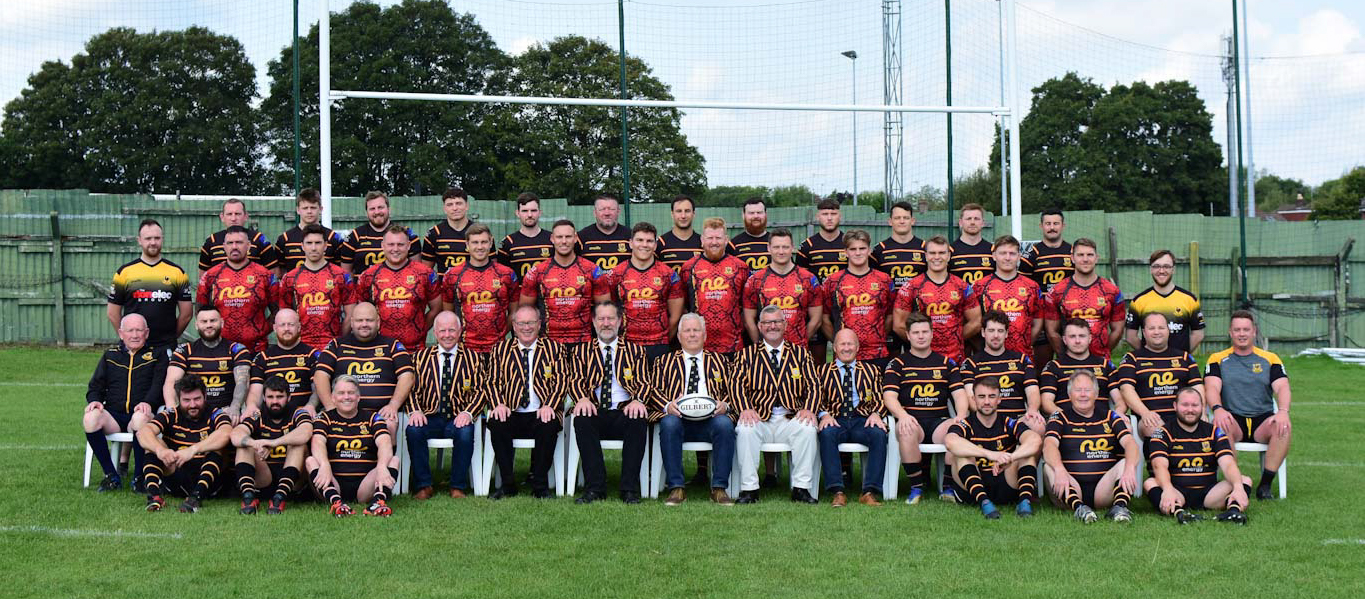 Harrogate Pythons RUFC Ltd is a Community Rugby Union Football Club in North Yorkshire and we were formally established in 2005/2006 Season.
We have a strong and inclusive ethos and community agenda are a RFU Accredited Club run by volunteers and some key points about us in 2023/24 are as follows:
Our 1st XV play in RFU Counties Yorkshire Division 1.
Our 2nd XV play in YRFU Central North/West Merit Table.
Our Social/Vets XV exists to welcome visiting and touring sides – All are welcome!
We have NO paid players or officers but we do fund player and coach development
We have an excellent player safety ethos boosted by pitch side physio's who are
Fully trained in pitch side support and head injury assessment etc.
Great community club facilities at The Jim Saynor Ground, Station View, Harrogate
We are an open and welcoming club and are keen to encourage rugby fellowship, involvement, support and sponsorship from our North Yorkshire sporting, social and corporate community.
. . . Come and see what we're all about!
Playing and Coaching Structure 2023/2024 Season:
Key Priorities:
As the club continues to grow in stature, we once again see the senior coaching team structure grow. For the coming season, we will introduce a Team Manager for each of our teams. This will be hugely valuable in ensuring that the players receive a consistent positive and professional match day experience every week.
For the 2023/24 season the coaching team will 5 captains to represent the club across all squads. We, as coaches, feel confident that these 5 Club Captains will set and maintain the highest of standards across the club and ensure player buy-in. These club captains will also play an active role in the social calendar with each captain, and their POD, leading at least one event this season.
As coaches our priorities have remained as ambitious as ever;
We aim to offer training sessions that are engaging and challenging for all.
We aim to provide ongoing feedback following match-days and training to aid your development as a player.
We aim to take each team to the top of their respective leagues.
Senior Coaching Team Structure: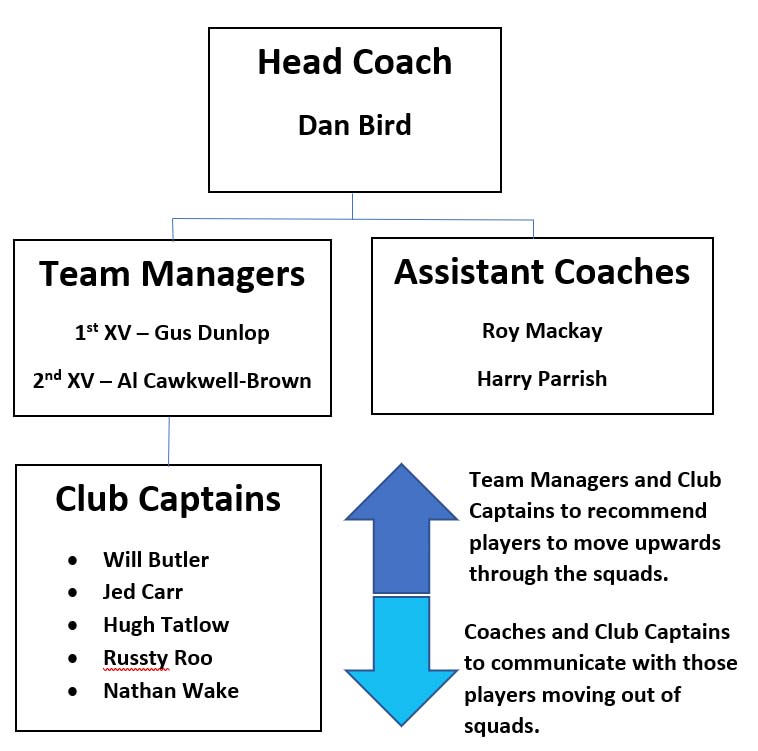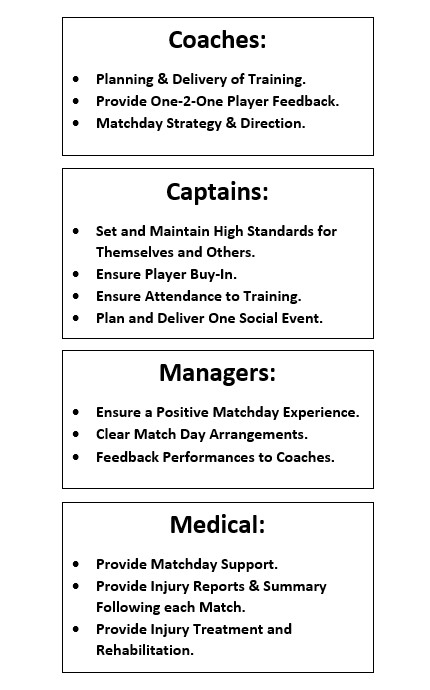 Players Charter 2023/2024 Season:
Teamwork:
Teamwork is essential to our sport. We welcome all new team members and include all because working as a team enriches our lives. We play selflessly: working for the team, not for ourselves alone, both on and off the field. We take pride in our team, rely on one another and understand that each player has a part to play. We speak out if our team or sport is threatened by inappropriate words or actions.
As a player of the HARROGATE PYTHONS RUFC you must ensure that you welcome all new players to the club, free of cynicism. As a squad we work together to seek improvement in our own, and team, performances. We collectively work to drive the club forwards on and off the pitch and understand that our contribution is essential in generating success.
Respect:
Mutual respect forms the basis of our sport. We hold in high esteem our sport, its values and traditions and earn the respect of others in the way we behave. We respect our match officials and accept their decisions. We respect opposition players and supporters. We value our coaches and those who run our clubs and treat clubhouses with consideration.
As a player of the HARROGATE PYTHONS RUFC you must demonstrate respect for each other, the coaches and the committee. This respect shall be mutual. You must also demonstrate respect for the playing and selection systems that are in place by communicating your availability for training and matches as early as possible. Should you be unavailable then offer a reason why. If you wish not to share the reason publicly then communicate directly with your coach and captain.
Enjoyment:
Enjoyment is the reason we play and support rugby union. We encourage players to enjoy training and playing. We use our sport to adopt a healthy lifestyle and build life skills. We safeguard our young players and help them have fun. We enjoy being part of a team and part of the rugby family.
As a player of the HARROGATE PYTHONS RUFC we play for the love of the game. Your playing status within the club is equal to that of every other player, regardless of the team you are selected for. Remember nobody makes an error deliberately, so if you see someone make a mistake then help them put it right. Off the pitch we celebrate success, or dissect defeats, together. We win as a team and we lose as a team.
Discipline:
Strong discipline underpins our sport. We ensure that our sport is one of controlled physical endeavour and that we are honest and fair. We obey the laws of the game which ensure an inclusive and exciting global sport. We support our disciplinary system, which protects our sport and upholds its values. We observe the sport's laws and regulations and report serious breaches.
 As a player of the HARROGATE PYTHONS RUFC we must understand that our discipline on and off the pitch directly links to the overall performance of the club. On the pitch you must be disciplined enough to operate within the laws of the game and not allow ill-discipline to creep in. Off the pitch we must demonstrate restraint to ensure that we are able to operate to the best of our ability on a Saturday afternoon.
Sportsmanship:
Sportsmanship is the foundation upon which rugby union is built. We uphold the rugby tradition of camaraderie with teammates and opposition. We observe fair play both on and off the pitch and are generous in victory and dignified in defeat. We play to win but not at all costs and recognise both endeavour and achievement. We ensure that the wellbeing and development of individual players is central to all rugby activity.
As a player of the HARROGATE PYTHONS RUFC we accept that regardless of the result, we hold our heads up high and interact after a game. Away from home you are expected to show a face in the clubhouse and respect the hospitality of others. You must also understand that as a player you may be rewarded as MoM (or punished as DotD) and this is part and parcel of the camaraderie of sport.
Everyone involved with Harrogate Pythons RUFC shares the responsibility for safeguarding and creating safe environments in rugby union whether as a player, coach, spectator or club official.
Harrogate Pythons RUFC is committed to creating and maintaining a safe and positive environment for everyone to play and enjoy rugby union and to safeguarding the welfare of everyone involved in the game, particularly those deemed to be at risk. To this end, Harrogate Pythons RUFC maintains a documented H&S policy including an up to date official RFU Risk Assessment & Action Plan.
The club has therefore published the following policy documents which have been written to reflect the club's commitment in these vitally important areas.
Please click on the following buttons to view and download our policy documents: