Pythons make it 4 in a row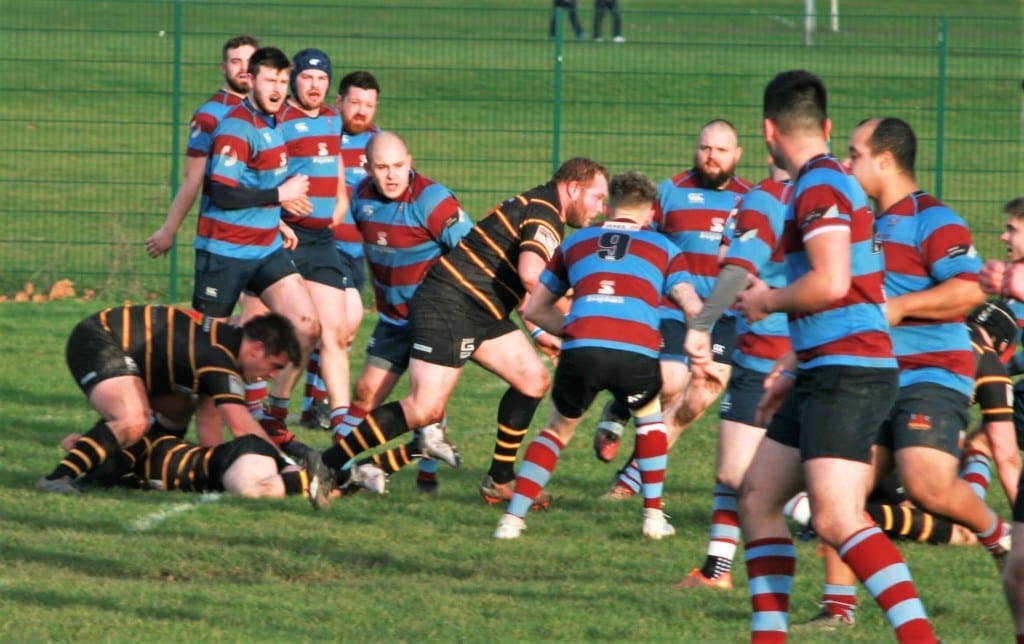 The Pythons travelled to Clifton Park needing to capitalise on their home win earlier in the season. Starting well strong running in midfield the Pythons set phases up taking them deep in Phoenix territory. A quickly taken ruck penalty saw Will Clough tackled within 10m and the home team given a yellow card. The Phoenix pack held firm at the taken scrum and cleared their lines.
Quickly back into the action a powerful run from loose head Steve Smith put Ollie Myers into open space to run 20m and touch down. Clough added the extras, 0-7.
The Pythons continued with their driving phases using Ed Challis and Matt Leach to gain ground with each phase. Will Butler broke through a tackle on half way to off load to supporting Luke Price-Gerrard who showed strength and pace to drive through two despairing tackles to run 30m and touch down, Clough adding the extras 0 – 14 on 24 mins.
Pressure was quickly back on The Phoenix line with The Pythons opting to scrum the growing numbers of penalties. The referee awarded a second yellow to the home side followed by The Pythons pack driving over the line only for the referee to call Hugh Tatlow's clear try short of the line. Scrappy possession followed with Clough finally kicking a penalty 0 -17, half time.
The second half began with similar pressure from The Pythons who were beginning to wear down the strong Phoenix pack. However, two missed tackles in midfield saw the home side's sharp centre break deep into The Pythons 22, tackled just short of the line, spilling the ball forward with the backing up player touching down and the referee awarding the try, 7 -17 on 60 mins.
Liam Kernoghan's pin point penalty kick out of hand gave The Pythons a line out 15m out . A clear take by Tatlow and a determined drive to the line brushed the defence aside to touch down 7 – 22, 70 mins. With a bonus point there for the taking the away side created several chances to score the fourth try but failed to take advantage of the many overlaps worked in the phases.
"Always a difficult place to win", said coach Dan Bird, "They have a very strong pack and we managed to wear it down which was good. Frustrated not to get the try BP probably down to 3 weeks off – we'll get that back on the training field," he added.
Next weekend the Pythons host Halifax Vandals at Station View.