Bonus point win on the road for Pythons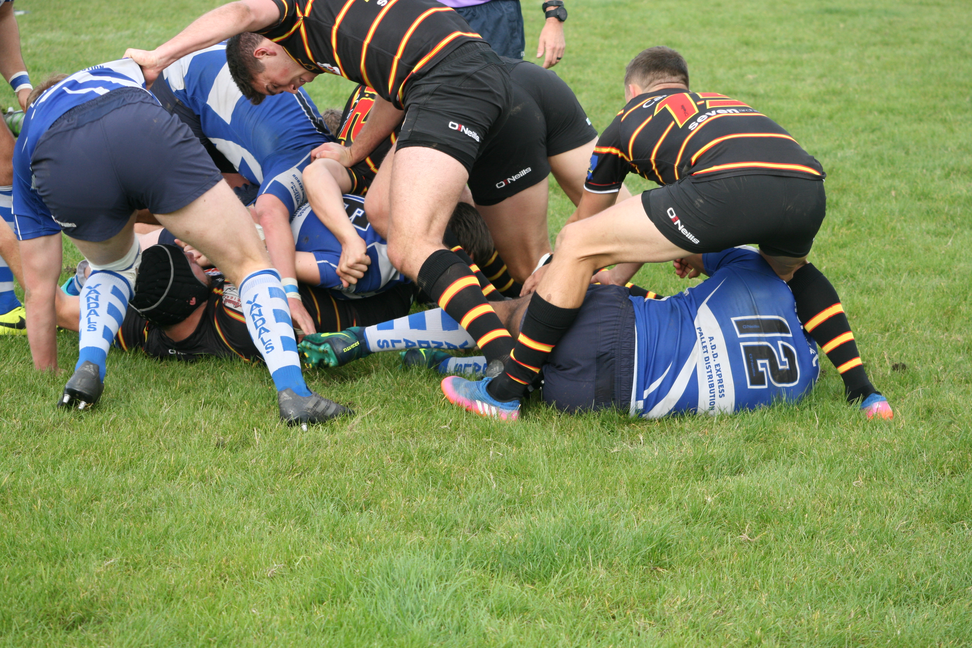 Harrogate Pythons travelled to Halifax Vandals full of confidence following last week's victory against Rotherham Phoenix. Vandals kicked off to Dan Harland and James Audsley-Beck kicked clear however at the breakdown the Vandals scrum half broke though at the fringe to race clear. He was stopped by a scrambling Gate defence which was eventually penalised. Vandals tried again from a quick tap but were again repelled until a rush tackle from Jed Carr looked to have repelled the danger but Gate were penalised for offside. This time Vandals went for the posts. 3-0 2 mins. Gate steadied the ship with some strong tackles from Dan Shortman, Harland and Adam Challis and effective carrying from Nathan Wake and Will Butler. A good clearance from Audsley-Beck gave Gate attacking lineout 10 metres out. Sandy Dunlop found Hugh Tatlow with the throw and Tatlow took the ball and burst through the Vandals line to give Gate the lead. 3-5 6 mins. Another clean break this time was stopped by Harry Parrish, Luke Price-Gerrard regained possession and Will Clough found Parrish who broke clear but his kick ahead just ran dead.
From a solid attacking scrum on the Vandals 22, Max Sharp carried well and quick ball saw Audsley-Beck throw out a long looping pass to Parrish who collected well and raced over in the corner. 3-10 21 mins. Gate were now getting on top in the set-piece, but were lucky when a Vandals cross kick was well collected by the winger only to see play brought back for a Vandals penalty. Vandals were now getting frustrated and their 2nd rower received a yellow card for handling in a ruck leaving the half time score Vandals 3 Pythons 10.
Vandals started the 2nd period in determined fashion forcing strong Gate defence and Max Sharp was shown a yellow for a high tackle. Vandals took a quick tap but Carr forced a turnover and won a pressure-relieving penalty. With Steve Smith and Matt Leach providing fresh legs the Gate scrum was now dominant. Price-Gerrard picked up from the base of a scrum and made good ground, Carr carried on the move and Wake was dragged down under the posts. Clough fired the ball wide to Ned Rutty to score in the corner. Will Clough added the extras. 3-17 52 mins. Vandals restarted with a deep kick which bounced to Audsley-Beck who put in a long clearance. The ball was taken by the Vandals winger who was crunched by chaser Jon Pickard.
The winger was penalised for holding on, and Rutty raced up, took a quick tap and sped away to score under the posts. Clough added the conversion 3-24 54 mins. Vandals rallied again but a probing kick was well dealt with by Ollie Wheatley and a flowing Vandals move was stopped by a crunching tackle in midfield by Tatlow. Some slick Gate handling and kick thorough bounced kindly to Audsley-Beck who linked with Rutty and from the ruck Gate again went wide to Audsley-Beck to score in the corner. 3-29 76 mins. Vandals, however, had the final say when a flowing move saw their winger score in the corner to make the final score Vandals 8 Pythons 29.
This was a good bonus point win for the Pythons with the set piece, in particular, looking very solid and the backs growing in confidence. Next week the Pythons have another tricky game away at Castleford.