Pythons make it 3 wins in a row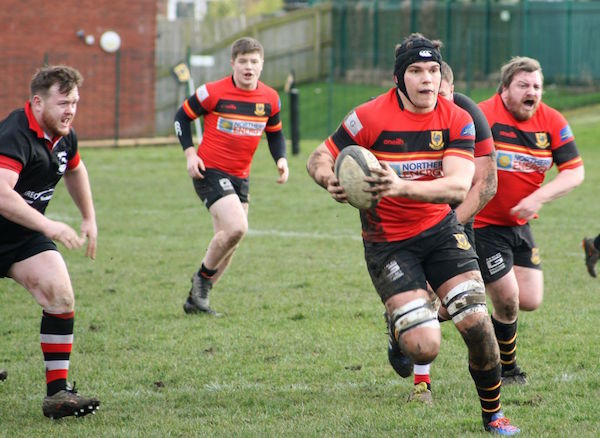 HARROGATE PYTHONS 16 V OSSETT 7
BY NEIL SUMMERSALL
Harrogate Pythons welcomed Ossett to Station View. The pitch had dried out well in the previous sunshine but Jed Carr kicked off the rain clouds gathered. A good chase from Luke Price-Gerrard forced a rushed clearance from Ossett. Hugh Tatlow gathered the lineout throw from Sandy Dunlop and a drive in midfield from Adam Challis resulted in the Pythons first penalty attempt, which Rob Cooper pulled wide. A wayward clearance kick from Ossett was well collected by Rich Paterson, and Cooper found a good touch. Pythons gained ground through Dunlop and Matt Leach to the Ossett 22, where Tatlow picked up and burst through several would be tackles to power over by the posts. Cooper added the conversion. 7-0 10 mins. The restart was knocked on by Ian Binns but he redeemed himself immediately by turning over Ossett ball and Carr put in the relieving kick. Price-Gerrard stole the Ossett throw and another probing kick from Cooper piled the pressure on Ossett. A loose Ossett clearance was collected by James Audsley-Beck who stepping inside his man and was stopped by a high tackle. Cooper stepped up to add to the lead. 10-0 16 mins. With Ossett looking to get back into the game, Binns stole another lineout and Grant Weatherson set off on a storming run down the touchline, despatching several would be tacklers. The Pythons next attack came from a solid scrum and Audsley-Beck linked with Cooper the ball returned to the other wing but the pass from Harry Parrish to Ollie Myers was dropped. With half time imminent Binns again stole lineout ball and Ossett were penalised in front of the posts. Cooper was again successful to make the half time score Pythons 13 Ossett 0.
Ossett started the second period strongly, but the Pythons stood solid in defence with coach Dan Bird leading by example. A clever kick though by Ossett was touched down over the line by Audsley-Beck but the Pythons were now conceding a string of penalties. Ossett refused to kick for goal and a series of forward drives eventually broke the Pythons defence under the posts. 13-7 60 mins. The Pythons came straight back and from a scrum Will Clough found Paterson in space who threw a long, looping pass to Parrish who looked to have crossed in the corner but was stopped just short. Clough took a quick tap penalty and was stopped inside 10m for another penalty. This time Cooper went for the posts to extend the lead. 16-7 70 mins. Ossett tried to come back and this time elected to kick a penalty but it sailed wide. With the final whistle approaching another Ossett attacked was ended by
Tatlow diving on the ball and the referee brought proceeding to a close with the final score Pythons 16 Ossett 7.
This was another solid win for the Pythons who next weekend travel to Leeds Corinthians if the Corona virus allows.