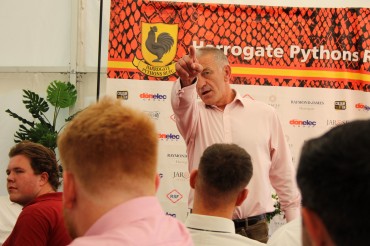 Following a fantastic season the decision was made to big up the Awards Presentations.  With 80+ in attendance members, players and sponsors were entertained by British and Irish Lion John Bentley.  A two course lunch was served by Sue Cawthorne and her staff from The Cuttings with the wine and beer flowing freely.  Chairman Julian Tatlow spoke first giving a round up of the season's high lights and introduced the awards:
Clubman of The Season, decided by The Committee, was presented to Al Cawkwell-Brown
1st XV Captain's Player of The Season went to Jon Pickard
1st XV Players' Player of The Season went to Bailey Bromberg, both presented by Will Butler
2nd XV Captain's Player of The Season went to Russell Robertson
2nd XV Players' Player of The Season went to Eddy Wilkinson, both presented by Al Cawkwell-Brown.
The Jim Saynor Award for The Season's New Comer went to Sam Considine and was presented by Dan Bird.  Dan made reference to the many players who could have received the award and then gave some of his high lights of the season overall.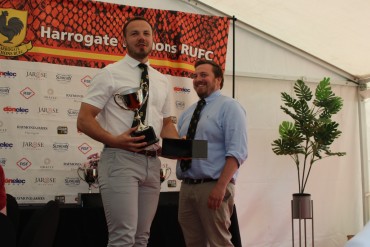 Our President Paul Day then spoke very eloquently to propose and present a new club award and our Chairman Julian Tatlow was duly presented with the new 'President's Trophy'. Paul alluded to Julian's exceptional commitment and service to Pythons over many years . . .
Bentos continued the afternoon's entertainment . . . At the end of the day, it was a great afternoon and a fitting cap on a fantastic season for the whole club.
Bring on the 2023/24 season . . . The club is in a great place!