Harrogate Pythons RUFC 1st XV 15 – 30 Baildon RUFC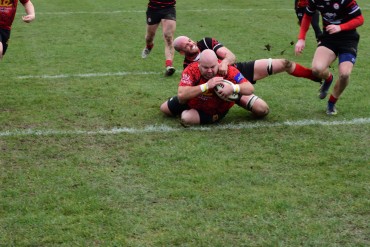 Match Report – Julian Tatlow. Pictures – Julian Tatlow & Si Womersley
This was exactly how a top 3 fixture should be played towards the end of the season.  Both sides drilled by their encounters earlier in the season and both playing for that top 2 spot.
Baildon struck first with a penalty following some hard phases early in the game.  Quickly followed by a well taken try from the visitors' sharp number 9 breaking down the narrow side from 15m, 0-8 on 10 mins.  Baildon struck again to leave the Pythons 0-13 on 20 mins.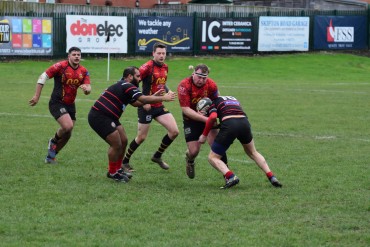 The Pythons were quick to get back into the game.  Familiar phase play using the strong carriers of Ed Challis and Jack Hall.  Approaching the 22m line Jed Carr feeds Tim Evans to drive through to 10m, Max Sharp feeds from the breakdown to put Challis into the corner, 5 – 13 on 25m.  More pressure on the Baildon defence as Carr repeatedly puts them back into their 22.  Marcus Fotherby secures line out ball, Hall and Hugh Tatlow drive for the line.  Sharp steps into space and Carr feeds Nathan Wake who drives over next to the posts.  Carr with the extras, 12-13 on half time.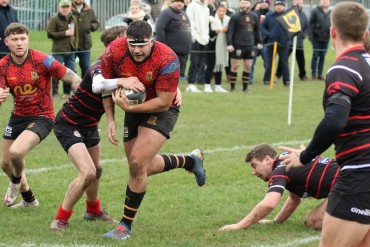 Sandy Dunlop and Sam Considine make the in roads at the start of the second half.  A huge clearance kick puts The Pythons back on the defensive.  Baildon begin to build their phases and a miss-timed tackle takes the Pythons to 14 men for the rest of the game.  The resulting penalty clatters off the cross bar and the home team clear their lines.  Harry Parrish gains ground from full back and with support from Jon Pickard and George Booth and the frustrated Baildon give away a penalty 30m out.  Carr splits the posts, 15 – 13 on 50 mins.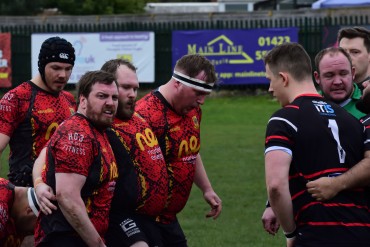 Behind in the game, Baildon re group and work the channels to the Python's line.  A scrappy ruck on the line and the referee signals try, 15 – 20 on 65 mins.  A penalty shortly follows, 15 – 23 and a hack through gave the Baildon winger 'an open goal' 15 – 30 full time.