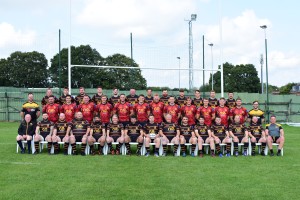 Yarnbury 2's 17 v Harrogate Pythons 2's 7
Yarnbury kicked off and some excellent hands from the Pirates saw Eddy Wilkinson come close with a break from the base. The Pirate scrum was firing well providing great ball for Irish to unleash the backs. Following good ground from a quick tap penalty, the Pirates turned the ball over, but an unfortunate knock on on the line saw Yarnbury drop on the ball to open the scoring. 5-0 10 mins. Some excellent scrum pressure led to Sam Fulton going close and Jake Harland having a try disallowed for a forward pass. Eventually the pressure told when the Pirates drove the opposition back from a 5m scrum and Tom Everingham crashed over. Irish added the conversion. 5-7 30 mins. The ref brought the half to an end with Pirates leading 7-5.
The 2nd period started sloppily for the Pirates when from a central scrum Yarnbury went wide to score in the corner to regain the lead. 10-7 45 mins. Then worse was to follow as after a 5m lineout the Yarnburt center crashed through to score a converted try under the posts. 17-7 48 mins. The Pirates responded strongly with new lads Chris Keegan, Nathan McKinley and Aaron Kirkpatrick to the fore and James Farrington resembling Chaval at times. A lovely, jinking run by McKinley led to a try saving tackle and the ref blew for full time with the final score Yarnbury 17 Pirates 7.
This was a game played in terrible conditions which either side could have won. However, it was pleasing to see returning players Jake Harland, Sky McKeon and Young Tom play so well.
Next weekend the Pirates entertain Skipton 2's.