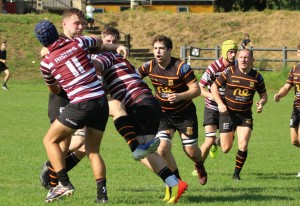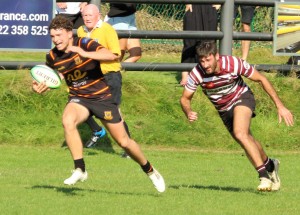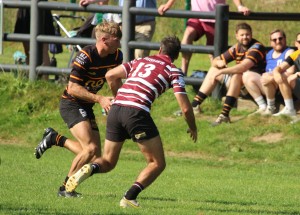 Harrogate Pythons 1st XV travelled to Old Rishworthian RUFC for their second league game in Counties 1.  In intense heat the game was evenly contested with penalties leaving The Pythons ahead 3-6 on 10 mins.  With Rishworth under pressure following some determined forward play the home 10 intercepted a pass and raced 80m to score under the posts, 10-6.  A penalty each took the score to 13-9, Tom Carswell broke from deep in his half to release Harry Parrish who outpaced the defence to dot down in the corner, 13-14 0n 30 mins.  A penalty each gave The Pythons the lead at half time, 16-17.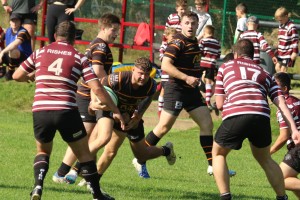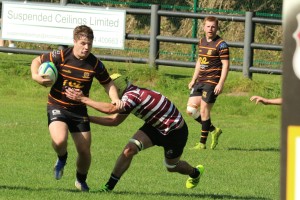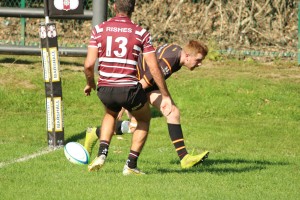 The Pythons started to take control in the early stages of the second half, dominating the set scrum and line outs.  Jed Carr used controlled ball to give winger Saul Adshead his first opportunity to show his pace.  Rounding the defence he broke tackles to dive over in the corner 16-22.  Using their forward advantage Gareth Drane combined with Carr bringing evergreen Matt Leach and Jack Hall to drive the home side backwards.  10m from the home line and the defence in disarray a spilled pass turned the ball over, the home centre was first to react and send his winger down the touchline to score under the posts, 23-22.  An offside penalty at the restart, 26-22.
The Pythons forwards pressure resulted in a line out on their 10m line.  Untidy ball gave Drane no chance, the home flanker was the quickest to react, gathering the ball and racing to touch down in the corner, 31-22.
The Pythons kept their forward pressure on.  With the ball on the home 5m line Drane and Carr created space for Carswell to send a perfectly weighted pass to Parrish who stepped inside taking 3 defenders out of the game to score.  Carr continued with the extras, 31-29 with minutes remaining.
Rishworth showed their Counties 1 experience and patience using controlled phases to work to The Pythons 22.  Working the 5m channel some sloppy tackling let the home number 8 drive over, 36-29, full time.
After the game Coach Dan Bird said, "We addressed those learning points from last week and our set piece was much better.  We created 3 well worked tries and kicked our penalties but Rishworth were able to seize their chances from our unforced errors".
Next week The Pythons face fellow promotees Wensleydale at The Jim Saynor Ground, kick off 3pm.