Harrogate Pythons RUFC 1st XV 22 – 6 Bramley Phoenix RFC 1st XV
Match Report Julian Tatlow – Pictures Julian Tatlow & Simon Womersley.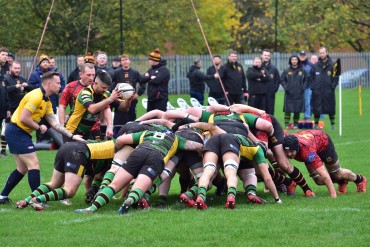 Harrogate Pythons add to their string of wins with a 22-6 victory over Bramley Phoenix. Always a tough fixture Phoenix struck first with a drop goal, 0-3 on 2 mins. The home side responded quickly and began to dominate at the breakdown. Runs from Tim Evans and Jack Hall bought some solid defence from The Phoenix pack and with Calum Brock unbeatable in the line out The Pythons had their chance to even the score following some indiscipline at the scrum. But, Audsley Beck's attempt was just wide. Undeterred Will Butler and Evans took play back into the Phoenix 22 and a deft tap pass from Max Sharp gives Audsley-Beck the ball, he breaks through the defence to score and adds the extras, 7-3 on 10mins.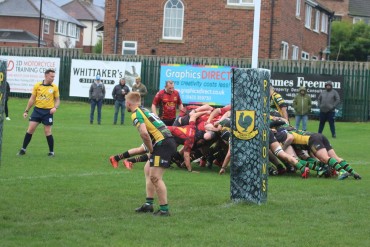 Pressure from The Pythons' play book and Phoenix need to defend hard. Some unforced errors prove frustrating for the home side but an off side at the breakdown and Audsley-Beck slots the penalty, 10-3 on 30mins.
A late tackle by Phoenix on the influential Audsley-Beck gives the Pythons valuable ground and the away team a yellow card. Not straight at the resulting line out and Phoenix are able to clear their lines. Half time.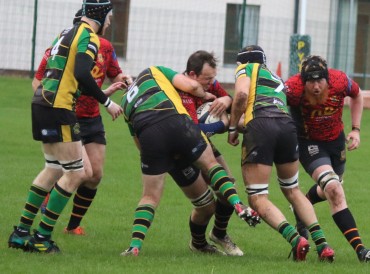 The Pythons began the 2nd half with their distinctive driving game. George Booth and Jordan Payne work together to push the gain line closer to points. Some quick work from Calum Brock at a scrum and evergreen Gareth 'Zippy' Drane reacts first to gather the ball and drive over the line, 15-3 on 50mins. Continued pressure from The Pythons was frustrated with some handling errors and an off side gives Phoenix a shot at goal, 15-6 on 70 minutes.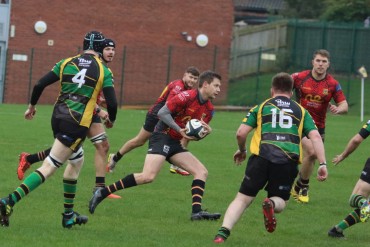 With the light worsening and the rain falling, The Pythons were camped 5m for several phases but, Phoenix held their line. Scrum dominance gave Drane chances but he was repeatedly held up. On the 3rd scrum re set Sam Beagrie, never far away from the action, picks up and muscles over the line. Audsley-Baeck adds the extras 22-6 full time. For his accurate passing and control of the game Gareth Drane was The Whittaker's Gin man of the match – the 3rd scrum half to receive the award this season.