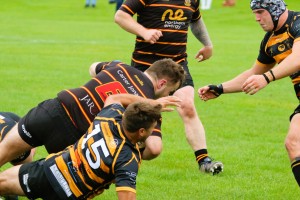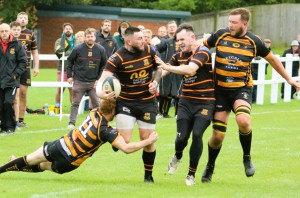 Pythons falter at home to fellow promotees Wensleydale
Harrogate Pythons entertained Wensleydale in a tough close game on Saturday. Within the first minute quick hands from The Pythons backs saw Jed Carr release Sam Considine who broke through mid field to pass to Harry Parrish outpacing the defence to score under the posts. Will Clough adding the extras, 7-0. Stunned by the score Dale were quickly back on the offensive using their effective driving maul well. A 5m line sees the home concede a well worked try, 7-7 after 10 minutes.
Straight from the kick off Dale carried the ball over their dead ball line giving The Pythons a 5m scrum. From a stable platform Clough fed Carr who timed a perfect pass to Parrish to split the defence and score his second next to the posts. Clough with the conversion, 14-7 on 15 mins. Back on the offensive and The Pythons mid field of Tim Evans and Max Sharp driving through the gain line catch Dale off side, Clough again 17-7 on 20 mins.
The Pythons need to defend but a high tackle offers Dale a penalty, line out on the home 10m line and the Dale flanker spots a gap in the line to sprint through, feeding his centre to score next to the posts, 17-12 half time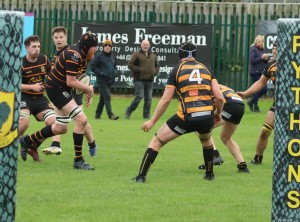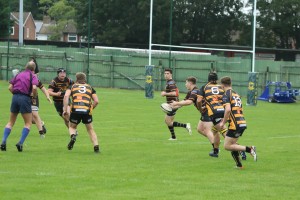 The first quarter of the second half was evenly contested between the 22m lines. The Pythons lose a scrum against the head and 2 phases later the Dale centre crashes over the line, 17-19 on 50mins. Responding to the change in the lead, Hugh Tatlow and Ed Challis carry hard through the middle. Carr send Sam Beagrie on his way, he floats a pass to Parrish who is held up agonisingly short. Clough digs the ball out from the breakdown and whips a pass to Sam Rowntree to power over the line next to the posts, 24-19 on 70 mins.
Dale come back hard and The Pythons need to defend. Dale win a line out on the home 5m line and their well practiced catch and drive is successful again, 24-26 on 75 mins. Desperate defence gives Dale a penalty in front of the posts and The Pythons a yellow card, 24-29 with minutes left.
The Pythons retain possession but an overcooked kick ahead gives Dale a chance to use their line out again on the home 22m line. Successive phases puts Dale's maul close to the line. Pythons collapse the maul giving Dale a penalty try and The Pythons a second yellow, 24 – 36 full time.
After the game Coach Roy MacKay standing in for Dan Bird said, "Once again a hard match was expected against Wensleydale and it proved to be the case. Set piece work was much improved compared to previous encounters with some of the handling and defensive work excellent. However the last ten minutes and two yellow cards proved to be our downfall. We need to work on our decision making and ball retention in these close matches to ensure a positive result is achieved. We deserved something more for our efforts but the quality of teams in Yorks 1 punish mistakes more severely and we need to be consistent for the whole 80 mins. I am very confident that once we get that first win we will settle"
The Pythons Whittaker's Gin MOM was awarded by Chris Taylor, Chairman Wensleydale RUFC, to Jed Carr.